GSA Class 5 Containers:





"Class 5 containers are typically used for storage of weapons and sensitive items such as funds, jewels, precious metals, etc. Class 5 containers may also be used for storage of classified documents, components, materials, and equipment. They provide the same protection as Class 6 plus ten minutes against forced entry attack. Class 5 containers come in several types: file cabinet, map and plan, weapon storage, COMSEC, and IPS.

"



Please Note: Unless you have a specific requirement to the contrary, under most circumstances, Class 5 security is not required for storage of classified documents.

There are four different types of Class 5 containers which are commonly available:

1. Class 5 filing cabinets, available in two and four drawer configurations. Five drawer filing cabinets are not available in Class 5 security at this time

2. Class 5 Map Plan Containers, available empty, or fitted with a variety of inserts to accommodate filing drawers, shelves, weapons and ammunition storage drawers, as well as several variations of pull out weapons carts, capable of securing up to 32 long weapons.

3. Class 5 General Purpose Container, available empty, or with several interior options including shelves and drawers.

4. Class 5 Information Processing Systems (IPS) Containers.

The following table lists the basic approximate shipping weights and dimensions of the various GSA Rated Class 5 Containers:
| | | |
| --- | --- | --- |
| Description | Weight (LB) | Dimensions |
| Class 5 Two Drawer Container | 590 | 25 x 21 x 28.5" |
| Class 5 Four Drawer Container | 980 | 49 x 21 x 28.5" |
| Class 5 Map Plan Container (Empty) | 1080 | 51 x 22 x 39" |
| Class 5 General Purpose Container | 520 | 29 x 22 x 24" |
| Class 5 IPS Container | 1230 | 51 x 22 x 35" |
If you determine you have a requirement for a Class 5 container, please note these units are quit heavy. Consideration must be given to placement and installation access, as well as the ability of the floor structure of your building, or ship, to support one, or more, containers. When ordering, you must be specific as to exactly where the container is to be placed, with regard to elevators, stairs, etc, as well as the unloading facilities, i.e. docks, forklifts, present at your location. If special delivery services are required, and available in your area, these plans must be made at the time your order is placed.

If you are ordering a Class 5 filing cabinet, the only option to consider is color. All of our containers are available in Gray, Black or Parchment. Grey is the most common color, and normally is more readily available from stock.

Pharmacy Containers: DEA/DoD regulations require most Controlled Substances to be stored in a GSA Approved Class 5 Container. For complete requirements visit the DEA, Office of Diversion Control website. Refer to the "Security Outline of the Controlled Substances Act of 1970." As noted there, additional, Non-Practitioner requirements may apply, such as weight minimums, normally exceeding 750 Lbs, and an external monitored alarm. We have a complete line of Pharmacy Containers. Please download complete information here.

Weapons Containers: For GSA Approved Class 5 Weapons Containers, there are a number of options to consider. There are two different configurations of weapons container, both with variations. The first would be a container in which the weapons are stored in pull out drawers. In this arrangement it is possible to outfit the container with up to seven drawers, each capable of accepting either pistols, long guns or ammunition. In the second configuration, the container is equipped with a weapons cart., which racks out and allows quick access to your weapons. There are two styles of carts available, the first accommodating up to 32 M-16s, or similar weapons. The second is the State Department Cart, accepting 16 M-16s, or similar, on one side and features shelves, for pistols or additional ammunition, on the other side. Both configurations are available with dual, top mounted, ammunition boxes.

Information Processing Containers (IPS): The GSA Rated Class 5 Information Processing Systems (IPS) Container is manufactured to a Class 5 rating under Federal Specification AA-C-2786 for protection of classified information and materials. These units are designed to give closed door protection to operating computer systems and related components. Standard 19" rack mount components are accepted, including shelves, drawers and other standard accessories. A secure cable box maintains equipment protection while allowing for cable and cord hook-up from outside the safe. The unit also segregates your equipment from potentially harsh outside conditions by providing a heat exchanger to dissipate accumulated heat from inside the cabinet. This greatly reduces the introduction of dust, moisture and other potentially corrosive environmental elements leading to reduced maintenance and, overall, much equipment cleaner operation.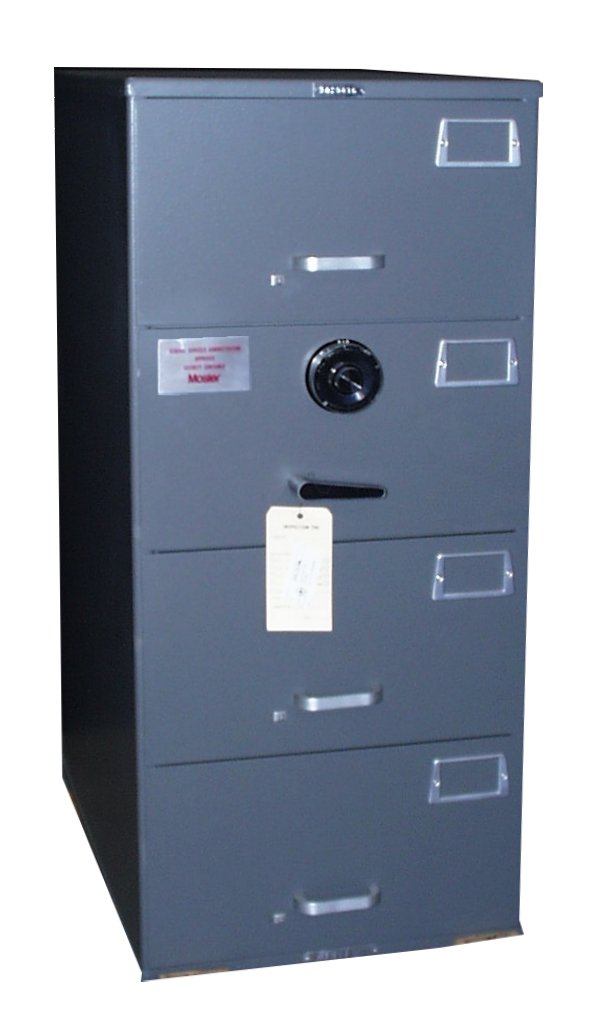 Class 5 Four Drawer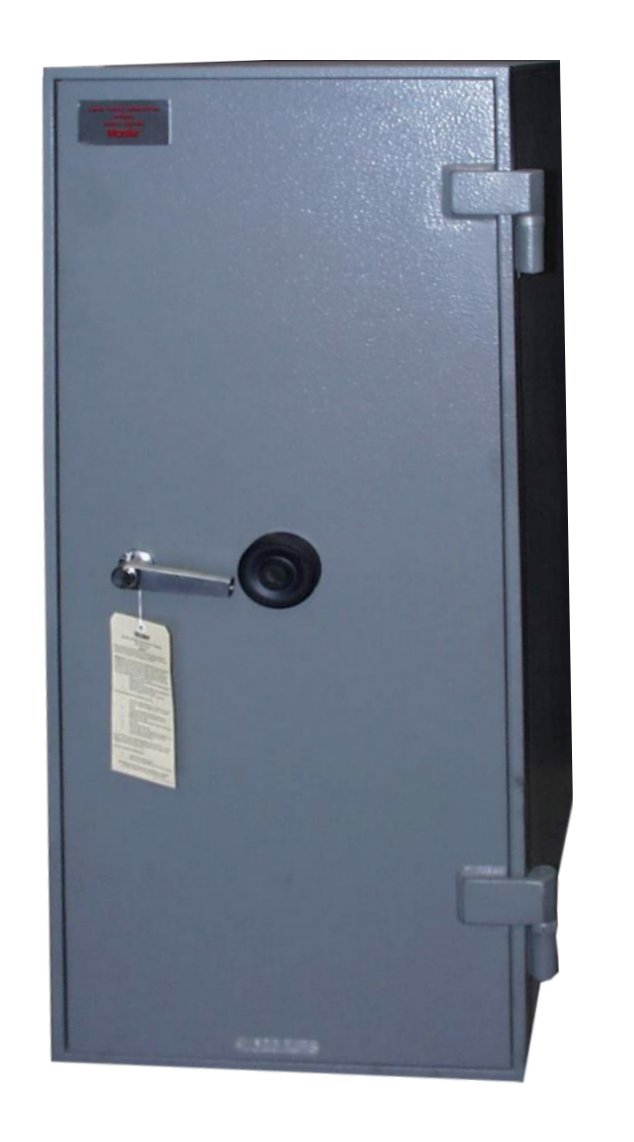 Class 5 Map Plan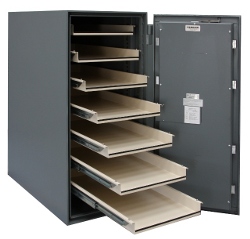 CL5 Pharmacy Container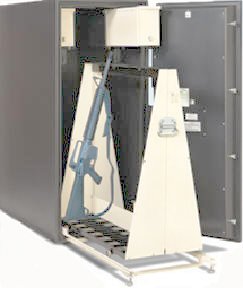 Class 5 With Rifle Cart
| | |
| --- | --- |
| | |
| Class 5 General Purpose | |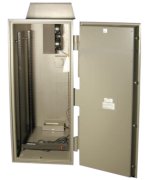 Class 5 IPS Container