GSA Class 6 Containers:





"Class 6 containers are typically used for storage of classified information such as documents, maps, drawings, and plans. They are available in file cabinet as well as map and plan styles.

"

Please Note: Unless you have a specific requirement to the contrary, under most circumstances, Class 5 security is not required for storage of classified materials.



Top Secret (T.S.) Compliance



All Class 6 Containers with the exception of the Field Safe (not pictured) are required to be equipped with FF-L-2740A approved Group One Digital Locks, These locks are user configurable for multi-combination access and are approved through Top Secret (TS.) For TS use the Field Safe may be ordered with dual mechanical locks.

---
There are two different types of Class 6 containers which are commonly available:

1. Class 6 filing cabinets, available in one, two, four and five drawer configurations. Two, Four and Five Drawer Containers are available in Single (SL) or Multi-Lock (ML) configurations (one lock per drawer.) Most are available in Legal, the most common, and also letter size configurations.

2. Class 6 Map Plan Containers, available empty, or fitted with a variety of inserts to accommodate filing drawers, shelves, or map/plan carts. The latter can be used store large paper documents flat, with rolling or folding.

The following table lists the basic approximate shipping weights and dimensions of the various GSA Rated Class 6 Containers:
| | | |
| --- | --- | --- |
| Description | Weight (LB) | Dimensions |
| Class 6 Two Drawer Container | 275 | 28 x 19 x 28" |
| Class 6 Four Drawer Container | 435 | 52 x 19 x 28" |
| Class 6 Five Drawer Container | 505 | 58 x 19 x 28" |
| Class 6 Map Plan Container (Empty) | 1040 | 51 x 22 x 39" |
| Class 6 Special Size Container | 115 | 13 x 16 x 17" |
If you determine you have a requirement for a Class 6 container, please note that though these units are not as heavy as the Class 5 containers, the remain quite heavy. Consideration must be given to placement and installation access, as well as the ability of the floor structure of your building, or ship, to support one, or more, containers. When ordering, you must be specific as to exactly where the container is to be placed, with regard to elevators, stairs, etc, as well as the unloading facilities, i.e. docks, forklifts, present at your location. If special delivery services are required, and available in your area, these plans must be made at the time your order is placed.

If you are ordering a Class 6 filing cabinet, once you decide on the container type there are only two options to consider. The first is color. All of our containers are available in Gray, Black or Parchment. Woodgrain is available on special order only. Grey is the most common color, and normally is more readily available from stock.

It is not possible to upgrade a single lock (SL) container to a multi-lock (ML) container. In a multi-lock container, each drawer is partitioned by a factory installed baffle to prevent access from one drawer compartment to another. This baffle is required and can not be added without voiding the GSA Certification of the container.

For Map Plan containers there are a number of options to consider. As pictured to the right, there are several possible configurations of shelves and drawer inserts available. These are installed individually and may be fitted in any configuration which can be physically accommodated. Additionally, a map/plan cart is available which allows flat documents to be draped, unfolded, across a removable cart. This makes storage and handling of these types of documents very convenient in an easy to access manner.
Wheeled Caster Base Units and Bolt Down Kits

Wheeled Caster Base Units are available for all of our containers. It is not permissable to weld to, or drill into, a GSA Approved Container without voiding the GSA Certification. So, we offer a complete selection of Bolt Down Kits if added security is required.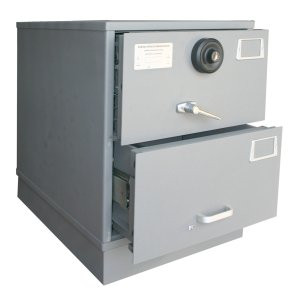 Class 6 Two Drawer
Class 6 Five Drawer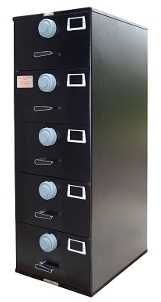 Class 6 Five Drawer ML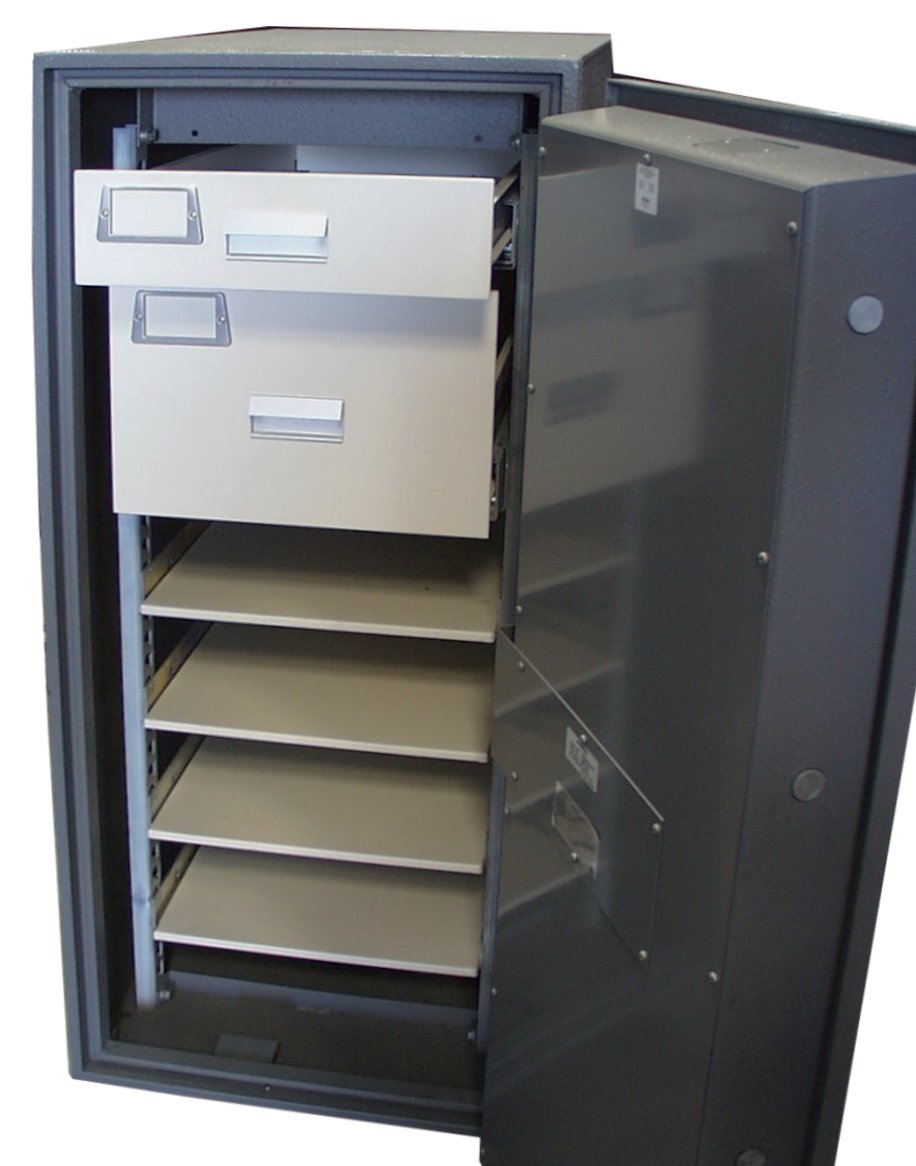 Map Plan With Insert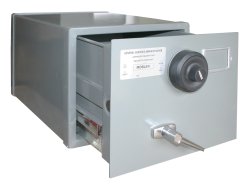 Class 6 Special Size